If your organization produces media like videos or weekly sermons, you must be submitting a RSS feed to iTunes. This is merely a list of your media files with descriptions and where iTunes can find them in order to serve them up as a Podcast.
A podcast is a type of digital media consisting of an episodic series of audio radio, video, PDF, or ePub files subscribed to and downloaded through web syndication or streamed online to a computer or mobile device. The word is a neologism derived from "broadcast" and "pod" from the success of the iPod, as audio podcasts are often listened to on portable media players. – Source Wikipedia
Why Should I Develop a Podcast?
Any business or organization, if they are able, should be creating content to foster brand allegiance. Getting "followers" is what happens when deliver engaging content.
Develop content that adds value to your customer base (weekly messages, music, videos, how-to videos, reports, etc.)
Define a strategy to promote these messages or features.
Serve these forms of media in many forms. (website, YouTube, iTunes Podcast, e-mail subscriptions, etc.)
RSS – Really Simple Syndication
A feed is a file that is served to websites that is basically a list of things. Twitter is the most common example of a feed generator.  By posting your "tweets" you are creating a RSS list of status posts that then can be served up on other properties, like your website, LinkedIn, Facebook, Blogs, etc.
So with regards to getting your business or organization listed in iTunes, we can help you develop a RSS feed file that iTunes will ingest every time you update it with a new forms of media. Files need to be created and formatted correctly. Images need to be served, descriptions need to be written, and so on. It doesn't take long to set up initially, but managing it weekly does take some effort, to troubleshoot issues.  One line of code or character can throw in a monkey wrench.
Example of a feed on iTunes: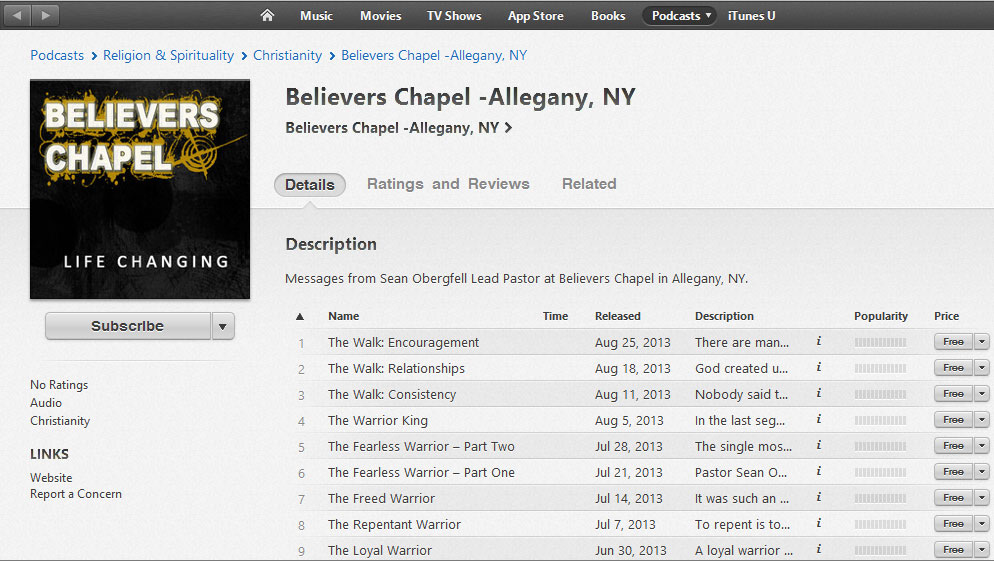 Feedback is Everything
A crucial final step in media syndication is facilitating feedback.  Your loyal subscribers and followers will be leaving you critical feedback.  The least you can do is respond in a timely manner if needed.  We suggest that you give as much recognition to your followers as you are able. Keep them as loyal followers.
A cohesive campaign to distribute all your media and correspondence is also crucial.  Create the media, publish it, and make sure it is syndicated out through all your social media and e-mail correspondent channels. The beauty of RSS is that you post it once, and it is to trickle out to all the other websites.  Feed the internet monster using this well oiled machine.
Lets Get Started